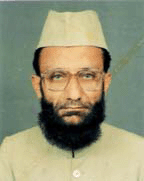 About me
I was born in a Muslim pathan family of Rampur state of U.P. in India in the year 1953.
My Father:- (Late)(Capt) Shaida Ali Khan, (b. 1915 in Rampur, Expired 27-08-1959 in Rampur)
My Mother:- Mrs. Sikandar Begum, (b. 1927 in Rampur, Expired 15-02-2005 in Aligarh)
My Grand Father :- (Late) Lt. Col. Asad Ali Khan
My Place of Birth :- House #2, Mohalla Punjabian, Razzar Street, Rampur-244901 (UP)-India.

Presently I am working as Electronics Engineer in AMU, Aligarh-India, where I have been engaged in the design and maintenance of electronic circuits and kits used for conducting Laboratory Experiments in the fields of Electronics & Telecommunication Engg. and Information Technology at the B. Tech & M. Tech Levels. I am also engaged in the maintenance and repair of all kinds of Electronic Equipments/Systems installed/available in the AMU, Aligarh, India. I have been the member of the Institute of Electrical & Electronics Engineers (IEEE) of USA in its Computers, Consumer Electronics and the Instrumentation Societies during the period 1984 to 1987, and the System Siciety of India. I am also the member of the Institution of Electronics & Telecommn Engrs of India (IETE).

The only source of inspiration, encouragement and affection for me, was my mother who has been seperated from me for ever by the creater, sustainer and the sole controller of the entire Universe in February-2005. Indeed, everyone of us has to leave everything of this world on its fixed date coming soon, which cannot be extended at any cost. Let's think for a moment about what preperation we have made to meet our own needs at our ultimate destination ?

---

My Hobbies and Interests
Thinking about the realities of the life and the world; Analysing the past events to get good lessons; Striving for the revival of the honesty, Justice, love and sympathy and the spirit of sincere service of all human-beings throughout the whole mankind.
---
About my Relatives and Friends:-

My Father:- (late) Capt. Shaida Ali Khan, (posted in Aden & Cairo during the 2nd world war) passed away on 29-08-1959 (Thurs) at 3:30 pm, in Rampur due to heart-attack.
My Mother:- (Late) Sikandar Jahan Begum, passed away on 15-02-2005 (Tues) at 05:15 am, in AMU Hospital due to excessive hypertension followed by the Electrolytes-imbalance.
My Wife:- Mrs. Abida Hadi, d/o Mr. Ilyas M. Khan & Majida Begum (Anni) (married on 16-10-1991)
Divorced wife:- Farzana Jamal (married on 19-04-1987 & divorced on 26-04-1991), d/o Shabbir Ali Khan (Shakeb Sahab), Advocate & Notary Public of Rampur.

My Sons:-
1. Monis Ali Khan, aged around 22 yrs, living seperately with his mother (Farzana Jamal).
2. Faraz Ali Khan, 17 yrs, Quran-Hafiz, studying in Class VII, in Ayesha Tareen Modern Public School, Aligarh.

My Daughters:-
1. Siddiqa, aged around 20 years, She is also living seperately with her mother (Farzana Jamal).
2. Ifrah Hadi, 16 yrs, is tudying in Class VIII in Aligarh, and
3. Farha Hadi, 13 yrs, is tudying in Class VI in Aligarh.

To know why my son Monis and daughter Siddiqa, are living separately with their mother (Farzana Jamal) without having any contact with me, read the story "Neglected Truth". To download it, Click here

My Cousin brothers:-
Engr. Iqbal M. Khan (UK), Engr. Aftab M. Khan (KSA), Dr. Sajid Ali Khan (UK), Dr. Nasir Ali Khan (USA), Mahboob A. Khan (Pakistan), Mansoor A. Khan (KSA), Dr. Ikram Ali Khan (KSA), Imtiaz Ali Khan, MBA (Strategic Planning) (UK), Yusuf Ali Khan (A pioneer cricket-player, played Ranji Trophy etc), Naseem Ahmad, MBA (USA), Manzar A. Khan & Afraz A. Khan (Pakistan), Ashraf A. Khan (KSA), M. Umar Shah Khan (UAE), (Late) M. U. Khan (passed away in Lucknow on 24-04-2006), Yaqoob A. Khan (Lko), Akbar Khan (Rampur), Matloob-un-Nabi Khan (Rampur), M. Usman Shah Khan, M.Sc, LLB, LLM (Rampur).

My Cousin Sisters:-
Jameela Apa (UK), Maryam Apa (KSA), Talat Apa (Pakistan), Tara Khan (KSA), Nuzhat-Khaleeque (Canada), Rehana Rahman (Pakistan), Mah-e-Naz, Asif Apa, Shamsheer Apa (Pakistan), Mehar Nigar (Rampur).

My Friends:-
Aslam Miyan (b/o Syed Muazzam Ali, Advocate), (Rampur), Hafiz Shahid Khan (Aligarh) & Saleem Khan (Aligarh) etc.
---
My Fovourite Links:-
Islam, The Only Way of Success for all
Muhammad (SAW), The Mercifull Guide for all
Dawah, The Mission of Life of Every Muslim
Quran, The Only Book of Guidance for all
---
To know more about me, read "The Sad story of my life", (click on its name)
To visit my Genealogical website, Click here
---
---