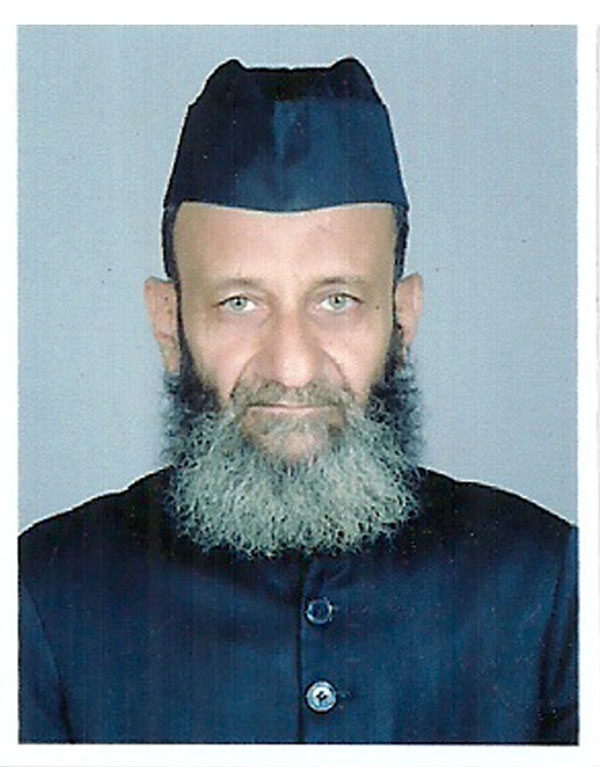 About me:-
I was born in a Muslim pathan family of Rampur state ofU.P. in India in the year 1953. I have no real brother or real sister.When I became 06 years old my father passed away & it was my mother (a parda-observinghouse-hold lady) alone, who brought up me with the help of the Almighty Allahonly.
My Father:- (Late)(Capt) Shaida Ali Khan, (b. 1915 inRampur, Expired on 27-08-1959 in Rampur) was Captain in the Indian Army (RampurState Forces). He was posted in the Egypt, Palestine & other middle-east countries during the Second World War (1941 -1945) & came back to India after getting victory in that World War.
My Mother:- Mrs. Sikandar Begum, (b.1927 in Rampur, Expired on 15-02-2005 in Aligarh) was the daughter of Risaldarof the Rampur State, & her grand mother belonged to the Royal family of theEstate of Rampur. The marriage of my father & mother took place in February,1940 in Rampur - India.
My Grand Father :- (Late) Lt. Col.Muhammad Asad Ali Khan (expired in Rampur in 1960) was bourne in the Estate ofBhopal, & was brought-up by his mother Ruqaiyya Begum & his maternal grand-father (Nana) Yaqoob AliKhan, of Royal Family of Bhopal (as his father, Asghar Ali Khan passed away inhis childhood).
My Place of Birth :- Mohalla Punjabian, BazarThotar, Rampur-244901 (UP)-India.
(The history & photographs of my Grand father & his relatives are in a video "OLD MEMORIES" available in my PHOTO - ALBUMS)
MyPresent Status:-
Presently I have been retired after rendering services for more than thirty years in the Aligarh Muslim University,where I was working as Electronics Engineer and was engaged in the design and maintenance work of electronic circuits and kits used for conducting Laboratory Experiments in the fields of Electronics & Telecommunication Engg. and Information Technology at the B. Tech & M. TechLevels. I was also engaged in the maintenance and repair of all kinds of Electronic Equipments/Systems installed/available in the AMU,Aligarh, India. I have been the member of the Institute of Electrical & Electronics Engineers (IEEE) of USA in its Computers, Consumer Electronicsand the Instrumentation Societies during the period 1984 to 1987, and the System Siciety ofIndia. I am also the Corporate life-member of the Institution of Electronics & Telecommn Engrs of India (IETE).

The only source of inspiration, encouragement and affection for me, was my mother who was seperated from me for ever by the creater, sustainer and the sole controller of the entire Universe in February-2005. Indeed, everyone of us has to leavehis every near & dear & everything of this world on its fixed date coming soon, which cannot be extended at any cost. Let's think for a moment about what preperation we have made to meet our own needs at our never-endingultimate destination ?
---
About my Relatives:-
My Paternal Uncles:- (Late)Major Mashkoor Ali Khan (Senior Pakistan Army officer) and (Late)Fida ali Khan (Distt. Agriculture Officer Retired - Lucknow)
My Maternal Uncles:- (Late)Mehar Shah Khan (Rampur) and (Late) Feroze Shah Khan (Pakistan)

My Wife:- Abida Hadi (married on 16-10-1991), d/o Mr. M. Ilyas Khan (retired-driver of Distt. Health Officer) & Majida Begum (Anni) (d/o Wazir DulhaKhan).
Divorced wife:- Farzana Jamal (married on 19-04-1987,divorced on26-04-1991 & expired in 2009), d/o (Late) Shabbir Ali Khan (Shakeb Sahab), Advocate & Notary Public of Rampur.

My Sons:-
1. Monis Ali Khan, (born on 08-07-1988 in Rampur), after taking 1-year MS-certified Computer course inAdvanced Hardware and Networking, in Aligarh, in 2012; is doing job somewhere & has no contacts with me.
2. Faraz Ali Khan, aged around 21 yrs, Quran-Hafiz, studying in Class XI, in AMU School, Aligarh.

My Daughters:-
1. Ayesha Siddiqa, (born on 24-03-1990 in Aligarh), living separately in Rampur, has no contacts with me.
2. Ifrah Hadi, aged around 20 yrs, studying in Class XII in AMU Girls Sr. Sec.School, in Aligarh, and
3. Farha Hadi, aged around 17 yrs, going to appear in Class X of AMUGirls School in Aligarh.

My Cousin brothers:-
(Late) Masroor Ali Khan, (Late) Mahboob A. Khan (Pakistan), Mansoor A. Khan(Pak), Engr. Iqbal M. Khan (UK), Engr. Aftab M. Khan (KSA), Dr. Sajid Ali Khan (UK), Dr. Nasir Ali Khan (USA), (Late) Hamid Ali Khan (UK), Dr. Ikram Ali Khan (KSA), Imtiaz Ali Khan, MBA (Strategic Planning) (UK), Yusuf Ali Khan (A pioneer cricket-player, played Ranji Trophy etc), Naseem Ahmad, MBA (USA), Manzar A. Khan & Afraz A. Khan (Pakistan), Ashraf A. Khan (KSA), (Late) M. U. Khan (Lucknow), Matloob-un-Nabi Khan (Rampur), Yaqoob A. Khan (Lucknow), Akbar Ali Khan (Lucknow), M. Umar Shah Khan (UAE) & M.Usman Shah Khan, M.Sc, LLB, LLM (KSA).(sonsof Late Mehar Shah Khan)

My Cousin Sisters:-
(Late) Sarvat Jahan (UK), Jameela Apa (UK), Asif Apa, Shamsheer Apa& (Late) Nahid Aapa (Pakistan), Talat Apa (Pakistan), Maryam Apa (KSA), Tara Khan(KSA), Nuzhat-Khaleeque (Canada), Rehana Rahman (UK & Pakistan),Mah-e-Naz (Pakistan), Mehar Nigar (Rampur).
---
My Hobbies and Interests
Thinking about the realities of the life and the world; Analysing the past events to get good lessons; Striving for the revival of the honesty, Justice, love and sympathy and the spirit of sincere service of all human-beings throughout the whole mankind.
---
To know the hardship & the problems I am facing, and the Sad Story of my Life, Click Here
---
Click on the following links to View the relevant details:-
Home Page My Albums My On-Line Work Contact Details My Muti-Purpose website
---