THE SAD STORY OF MY LIFE
written by Muhammad Hadi Ali Khan alias Makki Sahab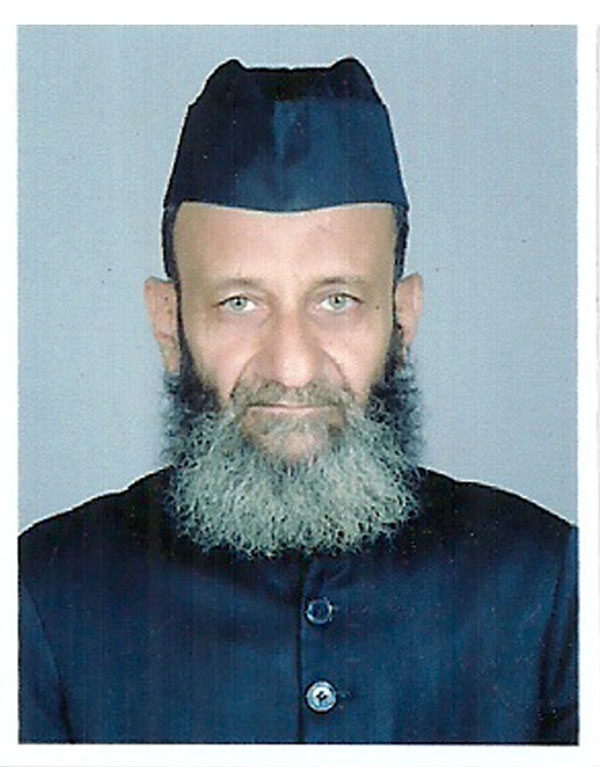 ---
About My Parents

My Father Janab Shaida Ali Khan, s/o Lt. Col. Asad Ali Khan, was an Army Officer (Captain / Major) in the "Rampur State Forces" under the administration of British Armed Forces (1935 to 1947). He was married to my mother Mrs Sikandar Jahan Begum (also his cousin sister), d/o Janab Hasan Shah Khan, Risaldar of Rampur State in 1940. During the period of his Service, he participated in the Second World War (1941 - 1944) and was posted in Palestine, Aden & Cairo. He obtained voluntary retirement from the Military services on the disbandment of the Rampur State Forces unit in 1950; because he wanted to take care and serve his old parents and his two sisters along with their 5 children who were also living with him without their husbands in Rampur due to some tragedy. To continue the army service, it was necessary for him to live outside Rampur by joining the Indian Army or Pakistan Army or British Army. His elder brother Mashkoor Ali Khan migrated from India and joined army service in Pakistan and younger brother Fida Ali Khan preferred to live outside Rampur to make his future better. My father did not like to leave his old parents along with his two sisters & their 5 minor children helpless without any youngman in the house and to go outside Rampur to build the future of his family better at the cost of his father & sisters; He, therefore, decided to sacrifice his army service for the sake of helping his father and the two sisters & their 5 children by living with them in Rampur and Hence, for this sake, he started some business in Rampur and also held the post of Honorary Secretary of the District Soldiers, Sailors and Airmen Board of Rampur (1951 to 1959). It is important to mention here that my mother gave birth to "eight children" but all of them died in their infancy hood and only I am the ninth and the last son born to her on Tuesday, the 30th June 1953. When I became 06 years old, my father suddenly passed away on Thursday, 27-08-1959 in Rampur due to heart-attack, leaving behind me and my purdah-observing & house-holding mother, that is, only the two persons in our family; and as such I could not get any physical support and guidance from my father. My mother brought me up in my father's house by rendering great sacrifices without any support from my paternal relatives for my education or any other need, as my grand-father also expired after one year of my father's death.
Something Special About Me
As I was the only child left alive after the death of eight children of my mother, I was brought up with extra ordinary care and cautions by my mother alone. Due to her great sacrifices, I was able to obtain a degree in Electrical Engineering. From AMU, Aligarh in 1979. After obtaining this Degree, I took training of wireless communication in the Overseas Communication Services of Govt. of India, in New Delhi. Although I was qualified to avail the opportunities of Jobs abroad in Saudi Arabia or in middle-east countries like my cousin brothers, but I never preferred to leave my Mother alone and helpless in Rampur (as there was no body to take care of my old and ailing mother Who sacrified her everu thing to make me independant). For this sake I could not go abroad for handsome jobs and decided to live with my mother to serve her, by doing job in the nearby place of Rampur. Therefore, I got a permanent job in AMU, Aligarh, where I served for more than 30 years in the Department of Electronics Engg. of AMU as an "Electronics Engineer/Junior Technical Officer" and kept my mother with me to take care and serve her. I got retirement from this service in June 2013.
A Sad Event of my life:-
With the opinions of some relatives, my mother married me with Farzana Jamal, d/o Mr. Shabbir Ali Khan, Notary Public, in April 1987. Out of this wedlock, a son namely Monis Ali Khan was born on 08th July 1988 and a daughter namely Ayesha Siddiqa was born on 24-03-1990. But Mr. Shabbir Ali Khan created such circumstances which compelled me to terminate my matrimonial relationship with Farzana, by divorce on 26-04-1991. Consequently I born the heavy financial loss by paying a huge amount in cash and all the precious jewelry of my mother to Farzana and severe mental tension as well. After divorce, both the children were brought up in the environment of thir maternal relatives which was totally against me, and they did not meet me frequently during the period of 14 years, while I continued to send them Rs 700 to 800 per month regularly. With the efforts of some relatives, they joined me in 2004 in Aligarh where I got them admitted in Class VIII, But they left me after 4 months, and their mother filed a legal case against me in the Rampur court; The case was dismissed by the court before the death of their mother in Rampur in 2009. They again came to me in 2010 and I got the son Monis admitted to a private one-year course in computer hardware and networking, but again they left me and lived in a seperate house on rent and I kept on paying him Rs Five thousand per month for his boarding, lodging and food in addition to meet the Training-course expenses. Now, both the children are living separately (perhaps girl in Rampur & boy doing job somewhere not known to me) and have no contacts with me since the last two years. To know the details of this Event, CLICKHERE
Present Status:-
After divorce, I was married with Abida Sughra d/o Mr. Mohd. Ilyas Khan (retired driver of Distt. Health Officer), r/o mohalla Kooncha Firangan, Rampur, in October 1991 and presently, we have the following three children:-
1. Faraz Ali Khan a/s Abdullah, aged around 21 years; Quran Hafiz & studying in ClassXI in Aligarh.
2. Ifrah Hadi, aged around 20 years, and studying in Class XII in Aligarh.
3. Farha Hadi, aged around 17 years, and studying in Class X in Aligarh.
Presently, I am living in a rented house in Aligarh temporarily because only two rooms of my father in the house of my grand-father, are not sufficient to accommodate my family and luggage comfortably and the separate small house of my father, which was in his use as a car-garage, store & drawing room, was given on rent after his death. Sixty percent portion of that house has now been recovered by me from tenants after huge efforts and expenses of above 60 thousands rupees, but this 60 % portion is presently in demolished condition, and the remaining 40 % portion, is under the possession of a meat-seller tenant, with whom a legal petition,filed by me is pending in the court in Ramput, for more than a year. So I am compelled to keep my family and luggage in a private house taken on rent in Aligarh untill I get back the full possession of that house for my own use. Thus I am compelled to manage the affairs of two houses in two distant cities simultaneously in this bad condition of my health and the lack of funds after my retirement, as there is no other person to look after my property in Rampur, or helping me in any way, consequently I am facing a lot of problems and mental tension & heavy losses in managing these affairs, as there is no other sufficient place for my residence and doing some part-time work/coaching anywhere else. May Allah help me.
---
To know about my relatives, Click Here
To visit my home page, Click Here
To know about my Contact details, Click Here
---
---